Lake Charles Memorial Performs Precise, Minimally Invasive Lung Biopsies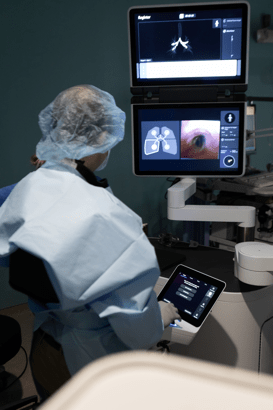 The Ion robotic-assisted technology will help detect lung cancer earlier and improve outcomes.
Lake Charles Memorial Health System announces its first minimally invasive peripheral lung biopsy using robotic-assisted technology utilizing the Intuitive Surgical Ion endoluminal system. This major
medical advancement offers doctors unprecedented stability and precision, addressing a challenging aspect of lung biopsy by enabling physicians to obtain tissue samples from deep within the lung, thus detecting earlier stages of lung cancer.

Pulmonologist, Clifford Courville, MD, performed this minimally invasive procedure on the Ion on November 4, 2022. His patient was the first to participate in the development of this new technology, close to home.
During bronchoscopy with Ion, the ultra-thin, an easily maneuverable catheter that can move 180 degrees in all directions, doctors can navigate along a planned path through small and tortuous airways to reach nodules in any airway segment within the lung. The robot's flexible biopsy needle can also pass through very tight bends via the catheter to collect tissue in the peripheral lung, enabling a more precise biopsy and easier surgical experience for patients.
Prior to this advancement, the preferred method to reach an abnormal spot in the lung was to use a live CT scan image and a needle, entering the chest wall and lung from outside the body; this presented a relatively high risk of injuring the lung tissue and potentially causing the lung to collapse for some patients who had advanced lung disease with emphysema.
Courville is the first of several Memorial Medical Group pulmonologists to be trained in Ion technology. This advancement further expands the innovative and advanced treatment options Lake Charles Memorial Health System makes available to southwest Louisiana.
--
About Intuitive Surgical, Inc.
Intuitive (Nasdaq: ISRG), headquartered in Sunnyvale, Calif., is a global technology leader in minimally invasive care and a pioneer of robotic-assisted surgery. At Intuitive, our mission statement is we believe that minimally invasive care is life-enhancing care. Through ingenuity and intelligent technology, we expand the potential of physicians to heal without constraints. Intuitive brings more than two decades of leadership in robotic-assisted surgical technology and solutions to
its offerings, and develops, manufactures, and markets the da Vinci surgical system and the Ion endoluminal system.