Memorial Announces October DAISY Foundation Award Winner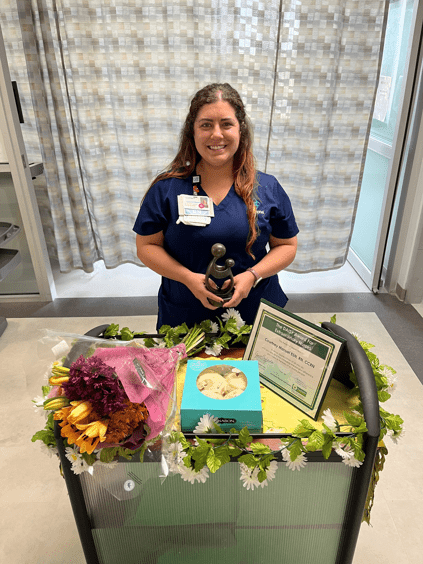 Congratulations to Courtney Manuel, BSN, RN, CCRN who works in the Surgical ICE at Lake Charles Memorial! She was nominated by a peer at Lake Charles Memorial Health System. The patient's family members described Courtney as compassionate, informative, and professional.
From the nominator:
My mother had an open-heart triple bypass procedure and had serval complications throughout her stay. She required much attention, and all the ICU Nurses, Doctors, and techs were incredible. But sometimes you have people who go above and beyond and that's where Courtney comes in.
From the beginning, Courtney was compassionate, informative, and professional. Her personality and demeanor help not only the family members but the patient. She would inform the family of everything that was going on at every visit. She called if major changes took place with my mother. She would assist the Physicians when they had to discuss tough conversations with us. She has a way of helping to calm the situation. When we had to have serious conversations with the physicians, and they knew Courtney was my mother's nurse, they would say "They don't get much better than Courtney as a Critical Care Nurse." I have been around many Physicians, and they don't just throw those types of compliments around.
Courtney is very compassionate about her career and patients. She offered to change her schedule to come in on her days off to help care for our mother! Not once, but twice throughout my mother's stay in the ICU. She would even call to get updates and make sure things were going well when she was not on shift. When Courtney was off or not our mother's nurse, she would let us know who we would have, and many times we felt better because she had trained the other ICU nurses that would care for our mother. I even witnessed her training another ICU nurse firsthand and that was very impressive. She is the type of employee that creates a culture. Her culture of caring, mentoring, and professionalism is something a company should be behind and reward.
Unfortunately, my mother did not make it out of ICU, despite every effort from all the teams. As we waited to visit my mother one last time, who came out to get us? Courtney, in plain clothes. As she had been throughout, her compassionate hug to my step-father, then to me and other family members as we made our way into the ICU. With tears in her eyes, she was sincere and apologized for our loss. Her words about my mother were kind and accurate. I asked her, "You are off today, right?" …. She said, "Yes, but I called to check on your mother and heard the news, I came to say goodbye."
Courtney Manuel will forever be a part of our lives and memories. As I mentioned before, all the staff, physicians, and techs were good. Courtney was above and beyond amazing.
About DAISY
In late 1999, at the age of 33, Patrick Barnes awoke with some blood blisters in his mouth. Having survived Hodgkins Disease twice, he was admitted to the hospital and diagnosed with the auto-immune disease, ITP (Idiopathic Thrombocytopenic Purpura).
Said his father, Mark Barnes, "We are so blessed that we were able to spend the eight weeks of his hospitalization with him and his family. During those weeks, we experienced the best of Nursing. We were there to see the clinical skill that dealt with his very complex medical situation, the fast thinking of nurses who saved his life more than once, and that nursing excellence that took years to hone to the best of the profession. But frankly, as a patient family, we rather expected that Pat would have great clinical care. That was why he was in the hospital. What we did not expect was the way his nurses delivered that care - the kindness and compassion they gave Pat and all of us in his family every day. We were awed by the way the nurses touched him and spoke with him, even when he was on a ventilator and totally sedated. The way they informed and educated us eased our minds. They truly helped us through the darkest hours of our lives, with soft voices of hope and strong loving hugs that to this day, we still feel."
Just days after he died, the family began talking about what they would do to help fill the giant hole in their hearts that Pat's passing had left. His wife came up with the acronym, DAISY, standing for diseases attacking the immune system. As they discussed what to do in Patrick's memory, first and foremost, they wanted to say Thank You for the gifts nurses give their patients and families every day. That is when the family created The DAISY Award For Extraordinary Nurses.